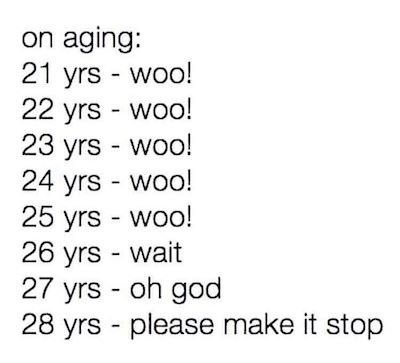 Y'all should know by now that I LOVVVVVVVVVVVVE my birthday. Always have and probably always will. But two years ago, when I turned 26, I had a weird moment. Literally, that picture at the top of this post could not be more real. 25 was my golden birthday – turned 25 on the 25th – and I felt soooo adult-y and grown-up. And then I turned 26 and was like, "Hold up…"
28 wasn't intimidating until I remembered that my mom had me when she was 28. When Daniel and I got married, I was 22, and I never felt in a hurry to have kids because my parents were 28 and 30, and they did just fine. But I also didn't expect to be married for 6 years and still not have kids, and as my birthday approached, I couldn't stop the flood of thoughts:
I'm about to be the age my mom was when she had me. And I'm the oldest kid. I better get a move on; I can't have my first kid when I'm 30. And what in the heck am I doing with my life?? I'm almost out of my 20's and I haven't cured cancer or created a new social media site yet. Everyone else is doing super important things with their life and yesterday I tried to get out of my car with my seat belt still on. *sigh*
All things considered, though, my birthday was actually AMAZING. My husband woke me up with breakfast in bed and some wonderful birthday gifts, we went to lunch with a group of friends from church and did a little shopping, and then celebrated with friends, pizza, cake, champagne, games, and a movie night at our house that night. It didn't have to be anything extravagant or expensive – just knowing that Daniel planned everything in advance made me feel very loved. ♥
I also wanted to take a second to fill you in on my 30 By 30 progress, since I brought it up – so here's a few things I've accomplished since my last update!
30 By 30 Update
#5. Throw someone a surprise party.
I actually did this twice last fall – a Stranger Things party for Jeremy, and a 13 Going on 30 party for Courtnie!
#15. Take Fitz on a trip.
Fitz goes to Thackerville with us all the time, but he also took a little vacation to meet up with a female German shepherd named Scarlett…! Haha. Things apparently went well, because Scarlett had a bunch of super cute puppies.
#17. Make a map of places we've visited.
When we went to Colorado with my family last summer, I found the perfect thing in one of the shops in downtown Silverton – a tea towel with a giant map of the United States on it, with all the states outlined. I've started coloring in each state we've visited with a Sharpie.
#27. Go on a fancy dress-up date.
We got to do this in Vegas for the MONAT gala. I just love dressing up!
I also finished another book (The Meaning of Marriage) and traveled to another state (Nevada). I never would have guessed when I created my list that I'd go to so many new states so quickly. My goal in 2016 was to visit five new states by February 2020, and I visited four in 2017 alone!!
What's coming up in 2018? Nothing definite yet, but hoping to check #13, #19, and #26 off the list. What do you have planned this year?